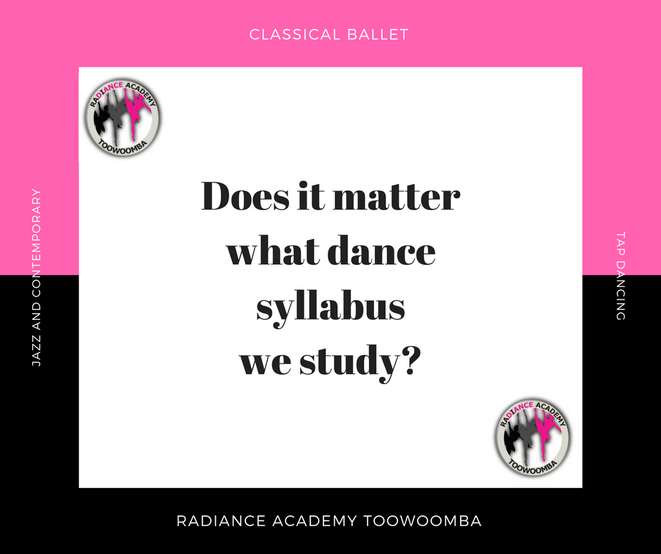 Topical
It is surprising how little is known about dance syllabi and how many myths are around in the community with regard to this topic.  Can I take a moment to remove the mystery and debunk a few myths for you?  Don't glaze over just yet, I promise this is important!
This topic has come up in conversation repeatedly this week so I think it is time I let you in on my thinking :-)
Context
Can I take you back a little way so that I can give my opinion some context? 
I began learning the Cecchetti  ballet syllabus at age 4.  It was a wonderful foundation with a robust and energetic style.  Then when I moved dance studios, I began learning the teacher's own Christian Ballet Syllabus before moving on to the Royal Academy of Dancing Syllabus.  I studied RAD for some time and attended examinations, courses and summer schools within the RAD system in Brisbane and Toowoomba.  I really enjoyed learning the RAD syllabus and learnt a lot during this time.  I studied RAD up to majors levels.  After some time out from ballet, I then transitioned to Vaganova (Russian Ballet) under the Australian Conservatoire of Ballet's syllabus.  This too, was wonderful.   It was by far the toughest and most fussy syllabus, but I probably learnt the most in that time.   I have now studied ballet teacher training in three different syllabi.  I am qualified to teach Australian Conservatoire of Ballet, Living Dance and Australian Teachers of Dancing.    So, as you can see I have been exposed to some amazing syllabi in my time and I have a fairly broad and inclusive experience of classical ballet. 
Spoilt for Choice
In 2015 I began studying again and the subject of syllabus provider was brought across my radar repeatedly.  I then spent many hours researching syllabus providers.  The list seems limitless once you start to look into it.  There are many, many amazing dance syllabi that will grow small dancers into artistic and beautiful dancers.  So, knowing how many great providers are available, I thought about what would be a "best fit" for our students.  This doesn't mean that the syllabus I have chosen is the premier syllabus in the world.  It means, that considering our clients, our country, our lifestyles... this syllabus will meet our needs perfectly. 
As you know, we have decided to offer the Australian Teachers of Dance syllabus in 2017.  I am very excited about this decision!  There are so many reasons why, but I will just share a few of the more important ones with you.
In comparison to other leading syllabus providers, the amount of QCE recognition points offered by the Queensland Government Queensland Curriculum and Assessment Authority is amazing.

ATOD 32 points available
RAD 14 points available
Cecchetti 9 points available
Living Dance and ACB 0 points available 

**Students are able to bank 8 of these credit points toward the QCE.
The genres available to study include: classical ballet, contemporary, jazz, national character, hip hop, musical theatre and street beat.
ATOD provides dancers with wonderful opportunities including scholarships, competitions, bursaries and more.  The ATOD gives out in excess of $100 000 per year! 
The examinations are affordable and local.
The syllabus is specifically suited for Australian dancers as it isn't an imported syllabus.  It was created by some of Australia's best dancers, teachers and examiners.
Myth Busting
I thought only RAD classical students could become professional ballerinas?

No, well trained classical ballet dancers with the right facility and drive from varied technical backgrounds are auditioned and accepted in tertiary training, pre-professional programs and professional companies. 
I thought there were only a few syllabus providers?

No, there are many wonderful syllabus providers all over the world.  A lot of them train dancers to an exceptionally high level.
If I have learned one syllabus I wouldn't be able to transition to another syllabus.

I can tell you from personal experience, that the language of dance is universally spoken.  All reputable syllabus providers train dancers in a wonderful and universal techniques.  Each provider has its own emphasis, just as each dancer has their own personality and style.
Only RAD provides enough technical content to prepare students for the world stage. 

No, this is not correct.  Award winning students, pre-professional and professional dancers have been launched from many and varied syllabus providers.  
Conclusion
In conclusion, we are convinced that the opportunities that we can provide will ensure your dancer thrives in their classes!  We will train your dancer with kindness and care, with technique and fun, with passion and knowledge. 
Thank you for those of you who made it through to the end!!!!!